At left is a picture of Yosemite National Park's beautiful Half Dome, a granite dome that's probably the park's most recognizable feature. Beautiful, isn't it? You can see why Yosemite is one of the most popular national parks in the country, and it is- rated best for RVs overall and one of the busiest, seeing almost four million visitors in 2012. You can even hike all the way to the top of Half Dome, though it's pretty grueling and involves the use of cables and supports that have been installed there for that express purpose- or an even harder technical rock climb.
The picture looks incredible, doesn't it? I don't know about you, but it makes me want to get on a plane and fly to California right
now
, and hit the backcountry. But as incredible as the picture looks, there's an enormous problem also on display in it. Life-changing, as far as Yosemite National Park (and California as a whole) goes.
Can you see it? I admit, it's hard without some assistance. Let me show you a picture taken from that same camera exactly four years earlier.
And the difference is... snow. Lots and lots of snow. That's because California's been suffering under a four-year drought that looks like it won't be abating any time soon. And that's caused a cascading effect, such as the one you see there. We still don't know what the full effects will be for parks like Yosemite; according to the National Park Service, it's at a much higher risk for fires that could ravage it's natural beauty; at risk for a dramatic increase in non-native animal species, like the New Zealand mud snail, which can completely cover river streambeds, displacing native organisms and making traversing the streambed impossible; and a huge risk of allowing invasive plant species, like the Himalayan blackberry, to thrive and form impenetrable thickets that replace native vegetation.
But, still, Yosemite will exist in some form. It's not like Half Dome is going to go away anytime soon. But what about a national park who takes it's name from something it's predicted to have none of within the next twenty to thirty years?
I'm talking, of course, about Glacier National Park. No need for a long spiel; here's a picture instead.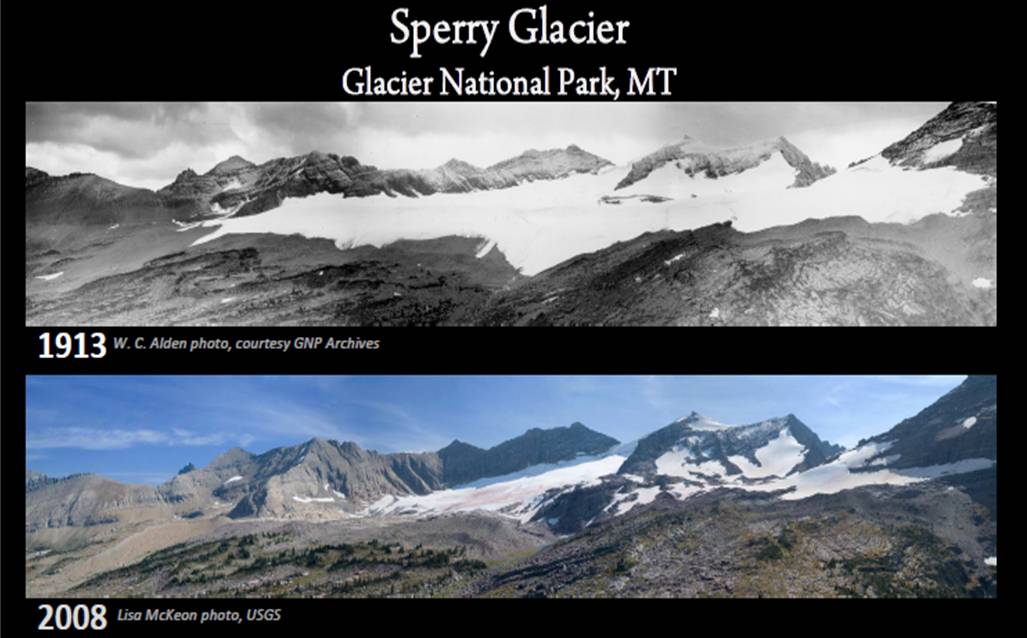 The point I'm trying to get at here is that there isn't a better time than now for getting into the Backcountry and enjoy it with your kids. My daughter wants to hike Glacier, as I've said many times, and if we don't get out there, she might not be able to. It's incredibly unlikely that she'll be able to hike it with her kids- well, I take that back. Glacier National Park isn't going anywhere; it'll always be Glacier National Park. But the Glaciers that give it it's moniker will be gone forever. The thousands of years it took to form them, and they'll be gone before our kids can take their kids to see them.
We can bicker and argue about climate change and global warming and whatnot, I'm not sure how that got to be such a huge, partisan issue in this country, but the bottom line is that if you want to see it and enjoy it, you better get your butt out there. Don't put that off any longer- and don't be intimidated by it! It might be a big jump, but you can get it done- and we're here to help you.