As we've gone over before, it absolutely doesn't take breaking the bank to get the equipment you need to hit the backcountry with your kids- and the
right
equipment, too, not Chinese-made stuff that'll break at the first opportunity. Still, it can be a pretty significant investment. Some people look at a price tag of $500 for all the gear they'd need to hit the backcountry, and go, pfft! Only $500! If you can't afford that, then why do it? But $500 is a lot of money... even half of that is a pretty significant sum for a lot of folks. And then you've got the problem that buying gear for kids necessitates constant replacement, if only because kids go and do that annoying thing called "growing up". Eventually, the gear you buy 'em won't fit anymore, for that reason if no other. And unlike other stuff, you really have to buy appropriately-sized gear if you want to hit the backcountry with your kids. Buy the wrong size hiking shoes, for instance, and I guarantee you'll be carrying your kids' gear, your kid, or
both
halfway across Creation, and make a miserable time for everyone involved to boot.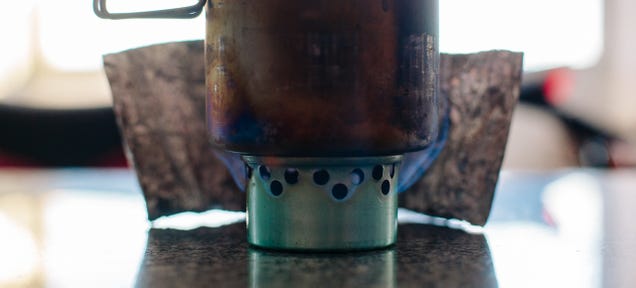 So, what's the answer? Well, obviously, there's some places where you can't afford to cut too many corners, like the suggestion above. There are some things you can do, though, to "Macguyver" or "lifehack" your way to a cheaper backcountry experience. Wes Siler, for those of you who follow his fantastic Indefinitely Wild blog on Gizmodo, might've seen this fancy thingamabob. It's a backpacking stove made out of an old cat-food can. A few holes with a hole punch and pretty much any kind of fuel in the bottom, and viola! You've got instant cooking heat for a buck-fifty! A great way to save the $50-100 you might spend on a backpacking stove and associated fuel otherwise.
But there's another great resource out there for first-time backcountry explorers- gear rental. Yes, that's right, there's a variety of places you can rent pretty much all the camping gear you need. The cons are, obviously, that you have to return the gear when all is said and done- but that's also one of the pros. Usually, you can pick up very high-end, high-quality gear, test it out for yourself, and decide where it is you need to splurge and save for buying your own gear once the trip is over.
Where do you go to rent this gear? There's two main choices- commercial outlets, or your local university. Today, we're going to look at that second choice.
Yes, indeed, your local college- be it a nationally-known four year institution, or a community college or technical school, often will rent exceptional gear for reasonable prices to
anyone
in the local community. Often you might have to pay a premium fee if you're not affiliated with the university in any way, but the prices are still pretty reasonable.
When I did research on which schools would rent gear, and which wouldn't, I presumed that public schools would be more willing to rent to anyone than private ones; that land-grant schools would be even more likely to rent to anyone; and that schools in close proximity to National Parks would be the best resources for gear rental.
All in all, the results were a bit of a mixed bag.
Private schools:
It was actually about 50/50 there. Duke and Gonzaga? No such luck. BYU and Notre Dame? No problem, The Notre Dame hold music was awesome, a men's-choir version of "Victory March". The BYU folks were some of the most helpful I found.
Land Grant Schools:
Again, a mixed bag. Minnesota said no problem; THE Ohio State University said "no way". The folks at Maryland sounded incredulous that any school would rent to the community at large, while Virginia Tech said no problem. Colorado State said no; Texas A&M said, and I quote, "Absolutely! We LOVE to rent to the community!"
Proximity to National Parks:
Another mixed back. UVA and Virginia Tech said yes; JMU said no. I couldn't find a single college in the entire state of Tennessee or North Carolina that would let the community rent from them, private or public- that's every Directional Carolina, NC State, Duke, Wake Forest (who won't even let some of their own students rent from them), Appalachian State, Vanderbilt, UT, etc, etc. Montana said no, but Idaho said abso
lute
ly, and the gentleman I spoke to at the Idaho rental shop was
incredibly
helpful, even giving me tips and suggestions on what to do and how to get to Glacier, Yellowstone, etc.
And the gear available to rent is, by and large, all high-end gear; MSR, Teton Sports, Kelty, Osprey, etc. All the high-end names you've heard of. So it'll give you a good idea on whether you want to spend $400 on an MSR Hubba Hubba 2-person backpacking tent, or want to go for a more-reasonably priced but maybe heavier ALPS Mountaineering Taurus backpacking tent. This is also a great choice for traveling light- you can fly to Glacier, for instance, into Spokane, rent a car, and drive through Moscow, Idaho, to stop at the University of Idaho rental shop, rent everything you need to go to Glacier, so you don't have to pack it all with you on the flight to and from.
Stay tuned, because we're going to get a more comprehensive list with prices and types of gear in the near future, and catalog it against the nearby National Parks. We're also going to go over the commercial gear-rental sources that are available, up next, in Part Two of our Gear Rental series.